By Dr. Sherawn Reberry & Marita Diffenbaugh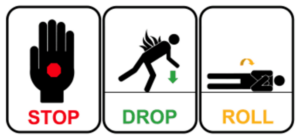 Throughout our educational career we have become very familiar with the term, "Stop, Drop and Roll!" Why? Because it has been engrained in our minds since we were in kindergarten. This is an important skill, and even as adults, we remember and take this to heart.
Nowadays, students need a different type of "Stop, Drop and Roll!" They need a playbook for digital literacy. The Internet is a big wide world, full of great learning; but, unfortunately there are also pitfalls that can arise. At an early age, students are beginning to develop as digital citizens and some might call them, digital natives.
In today's world, digital natives gain technical skills before entering kindergarten. They understand how to successfully retrieve and find information through digital means. We must question how to help students understand the validity and safety of using resources, websites, apps and social media. Web literacy leader, Alan November, explains how educational leaders should "craft a clear vision of connecting all students to the world's learning resources" while modeling "the actions and behaviors that they wish to see in their schools." For students, it's not just about the validity of judgment, but it is also about replication of skills. Do our students know when to Google and when to use their own skill set?
As school leaders we have the responsibility of ensuring that students are engaged in an effective learning environment — whether that environment is face-to-face or online. Digital Literacy is a critical component of any learning environment. Digital Literacy, as defined by The American Library Association's Digital Literacy Task Force (2011), "the ability to use information and communication technologies to find, evaluate, create, and communicate information, requiring both cognitive and technical skills." However, no matter the subject that is being taught it is important for students to know how to think critically and evaluate the digital world surrounding them. It is our job, as educators, to ensure that students are prepared for life in the real world, civically responsible and digitally literate.
"Stop, Drop and Roll" should now be aligned with our connected world to safeguard our students ensuring that they are prepared for life, civically responsible, and digitally literate.
Stop: always be critical of sites, tools, and conversations; know where you are at all times
Drop: what you are doing when it feels uncomfortable and know who to tell
Roll: move away from what you are doing and analyze the validity of the source
At Idaho Digital Learning we take careful consideration of all tools and resources that we ask our students to utilize. We encourage students to understand that the digital world provides a magnitude of opportunities when a positive and confident digital presence is sustained. From the beginning of a course through the final exam we employ design efficiencies as well as transparency with our teacher expectations. Our teachers are trained to be watchful for indicators that a student is struggling, not just academically, but also emotionally. IDLA encourages our teachers and students to employ the 4 C's:
Critical Thinking
Communication
Collaboration
Creativity
The use of the 4 C's is imperative for our students to emerge as literate digital citizens.
It is critical that our students are learning for themselves today, but also to be productive citizens in the future.
Critical Thinking will not only help our students grow with the world around them, but it will also help them understand when to "Stop" and reposition themselves now and in their future. Critical thinking will help them make adjustments while reviewing evidence, evaluating claims and learning the importance of rational decision making.
Communication skills will teach our students how to be global citizens. Understanding the outlying factors in how to communicate well, will assist our students in the knowledge of when to "Drop" from uncomfortable situations.
Collaboration is re-emphasized throughout the research (as read at http://www.nea.org/assets/docs/A-Guide-to-Four-Cs.pdf) that it is a critical skill to ensure the globalization of a connected workforce. As stated in the before mentioned document, "the collaborative culture…demonstrates how people working together can produce extremely inclusive and valuable resources." Author James Surowiecki, for example, explains how we use the "wisdom of crowds" in the new economy by saying that "under the right circumstances, groups are remarkably intelligent, and are often smarter than the smartest people in them."
Creativity is now a driving skill for the workforce. Previously, creativity was thought of as a secondary skill; however now it arising as a critical driver. Sir Kenneth Robinson, stated, "Creativity is as important in education as literacy and we should treat it with the same status," taken from http://www.nea.org/assets/docs/A-Guide-to-Four-Cs.pdf, page 23. Creativity is the skill that allows students to know when to "Roll", move away from the source and analyze for validity.
The 4 C's are closely interwoven. Today all four skills are critical components for forward movement in school and life beyond. The ability to innovate rests on many different skillsets and the ability to interweave those skillsets together.
Recognizing that we are all digital contributors means that educators are tasked with being intentional when providing opportunities for students to practice critical thinking, collaboration, communication, and creativity online.
A Team Huddle could be a great strategy for implementing the 4 C's into any learning environment. Gathering together with your team to listen, strategize and celebrate is common practice in sporting events. The "team huddle" involves a coach or a lead player that comes to the group with strategies for play, encouragement, and experience that serves to support the entire team. Players bring their questions, input and experiences, as well.
Educators and families can use a "team huddle" to support learners in the area of digital literacy, while activating the "Stop, Drop and Roll" message for how to navigate and contribute online. Some students might feel reluctant to share negative online experiences for fear that these trusted adults will remove the Internet from them, entirely. Conversations about how digital footprints can be permanent can result in some students feeling regret and fear from their past online contributions. Explaining to learners that "from this moment on" they can choose to demonstrate positive digital citizenship and bring hope to this kind of situation.
Looking for scenarios to work through with your team? Common Sense Education's K-12 Digital Citizenship Curriculum offers educators, families and students guidelines, resources and connections with others around the globe that are working through many of the same digital dilemmas.
When creating your team's digital literacy playbook consider weaving in "The YOU MATTER Manifesto" from Angela Maiers.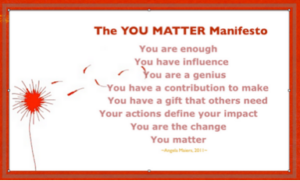 http://www.angelamaiers.com/2012/01/the-you-matter-manifesto
Your team's playbook can include the familiarity of "Stop, Drop and Roll" while supporting students for online emergencies and encouraging productive and positive digital citizenship.
Stop: always be critical of sites, tools, and conversations; know where you are at all times

Your actions define your impact

Drop: what you are doing when it feels uncomfortable and know who to tell
Roll: move away from what you are doing and analyze the validity of the source
As our students move along their educational path into the world beyond high school they will have a skillset that will enable them to be digital contributors in a thoughtful, meaningful, and safe way. Formalized instruction helps to guide students' educational experiences and doing this with a global outlook, can be a challenge. This is hard to navigate alone, we are better together. IDLA is comprised of a group of educators that prides ourselves in working together and sharing strategies for the success and safety of all students. Idaho Digital Learning serves our students but also reaches out to all districts in Idaho to join their team huddle and be part of the collaboration for online and blended learning.
References:
The NEA Guide to the Four C's: http://www.nea.org/assets/docs/A-Guide-to-Four-Cs.pdf
Angela Maiers The You Matter Manifesto: http://www.angelamaiers.com/2012/01/the-you-matter-manifesto/
Team Huddle: https://en.wikipedia.org/wiki/Huddle
Google Digital Literacy and Citizenship Curriculum: https://www.google.com/goodtoknow/web/curriculum/
Fire Safety Reference: Stop, Drop and Roll
Alan November – Why Schools Must Move Beyond One to One Computing: http://novemberlearning.com/educational-resources-for-educators/teaching-and-learning-articles/why-schools-must-move-beyond-one-to-one-computing/