By Jeff Simmons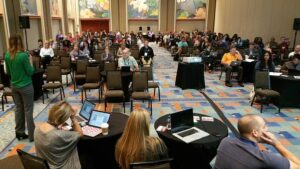 I recently had a chance to attend the iNACOL Blended and Online Learning Symposium. This event is an annual gathering of educators from around the world working in the field of online learning. "Online learning" includes those working in blended learning environments, fully online environments, and everything in between.
It's impressive to see the size of this conference each year. It is inspiring to see the number of committed, innovative educators working each day to provide high quality learning experiences that our students deserve. There is innovation happening all over the globe at the classroom level, school level, district level, and even state level.
I'm proud of Idaho Digital Learning's leadership in the field of online learning. Idaho Digital Learning has provided capacity as Idaho's state virtual school since 2002. During that time, our small virtual school has grown and has continued to provide greater choice, flexibility, and services for Idaho public schools. Idaho Digital Learning has continued to stay on the leading edge of technology and learning.
Dr. Sherawn Reberry, Director of Education Programs, and Niki Walker, Professional Development Manager, co-presented a blended learning session at this year's iNACOL event with blended learning educators from two other states. Over 200 participants turned out for the session! This is a great complement to the quality provided by Idaho Digital Learning's Professional Development Team through our Blended Learning Program.
It has been an honor to serve the state and grow along with this organization for the past 13 years. I am excited to see the growth of online learning and other innovative educational opportunities for students around our great state. We look forward to continuing to partner with our public schools to provide Idaho students with a first class, 21st Century education.